Onfloor 16 Floor Grinder / Scarifier / Sander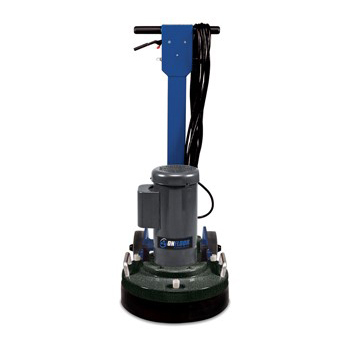 This is Onfloor 16 Floor Grinder / Scarifier / Sander comes complete with either the Red Diamond Concrete Plates OR The Carbide Scarifier blades. It runs on 115V and has a 16" head.
ONFLOOR™ Technologies presents Onfloor 16™ — a revolutionary new tool in floor preparation. More than just a sander, Onfloor 16™ helps bring new life to concrete surfaces, decks and hardwood floors. Onfloor 16™ is powerful enough for demanding industrial jobs, yet light and simple enough for home use. And the exclusive patented design of Onfloor 16™ works to provide superior results with minimum effort. So not only will you be sanding like a pro in just a few minutes, you'll be finished just as quickly.
With Onfloor 16™, you can remove years of wear from just about any concrete surface. Our exclusive Red Diamond Concrete Plates are embedded with a coarse diamond grit that will quickly ready your floor for any coating application. And if your concrete floor has a coating that doesn't require removal, the Red Diamond Concrete Plates will abrade the surface and remove the gloss. Plus, when fitted with the powerful Carbide Scarifier Attachments, Onfloor 16™ helps remove most coatings and hard, brittle adhesives. The Carbide Scarifier blades are available for this machine as well.
Frequently Asked Questions
Instructional Video for Concrete Prep
VIEW IN OUR STORE